On June 22, Dean Clark Stanford presented Marcos Vargas, professor in family dentistry, with the 2022 Collegiate Teaching Award. This award recognizes a faculty member who exhibits an "outstanding contribution to dental students', graduate students' or residents' intellectual and professional development."
After completing his master's degree and certificate in operative dentistry from Iowa in 1994, Vargas joined the faculty in operative dentistry as an assistant professor. He was promoted to associate professor in operative dentistry in 1998, and in 2006, he became a full professor in family dentistry.
Among his colleagues and his students, Vargas is regarded as a highly accomplished educator both in the classroom and in the clinic. As a professor in family dentistry, Vargas and his colleagues are responsible for ensuring that each fourth-year dental student is ready to begin their careers as independent dentists.
Vargas said that he loves this part of his work.
"It is very satisfying to see dental students learning growing through the years.  Then, to see them years later in their lives and practices, where they have flourished."
As a leading international expert in esthetic and restorative dentistry, Vargas brings a unique and powerful voice to the table for students and colleagues in family dentistry. Although he has exemplified these characteristics for many years, two recent examples highlight the value that Vargas brings to the college.
In the spring of 2020 when most clinical care and in-person instruction ceased for a little over two months, Vargas was, according to Chris Barwacz, "instrumental in establishing, fostering, and broadening the scope of the COVID-19 Grand Rounds experience, to give the Class of 2020" the best educational experience they could have despite the limitations inherent to that period. More specifically, Vargas arranged to simulate an operatory in his home and livestreamed clinical workflows for numerous kinds of complex cases. Furthermore, drawing from his international and scholarly connections, he brought in guest experts to broaden the educational experience of our students during the shutdown.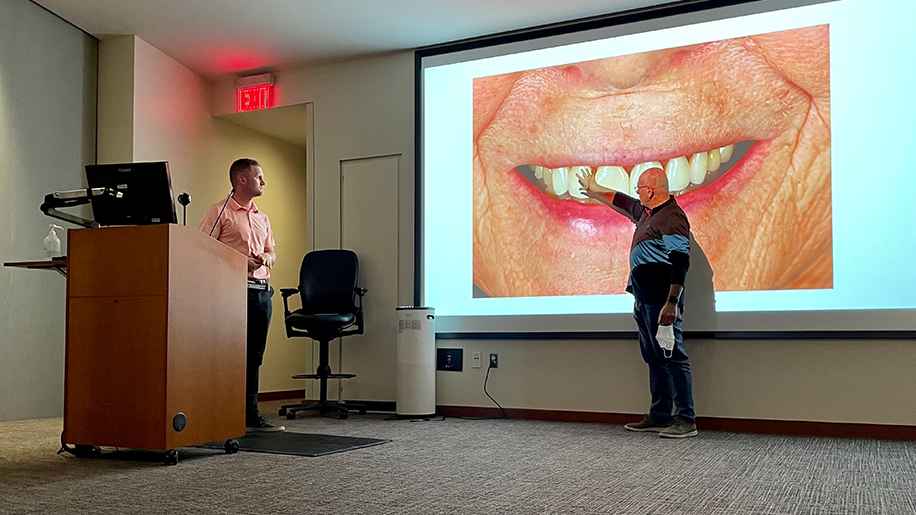 A second example of Vargas' dedication to educational excellence involves his efforts over the course of the most recent academic year. He is the new course director for Topics in Family Dentistry I and II, and he has augmented the course content with contemporary restorative concepts that has improved the educational experience for our students. He also began teaching in the D4 implant clinic this past year, and is committed to using and teaching students how to effectively use digital dentistry with three clinic sessions per week in the CAD/CAM clinic.
This commitment to continuous improvement is a hallmark of what set's the Iowa educational experience apart. For Vargas, it's all part of being a "life-long learner, having an open mind and trying to improve each day."
Chris Barwacz, chair and associate professor of the Department of Family Dentistry, said of Vargas, "The Department of Family Dentistry and the College of Dentistry are very fortunate to have someone with Dr. Vargas' skill and passion for teaching."
Vargas is also quick to attribute this recognition to the support he feels from his colleagues.
"I feel very fortunate to work with a great group of people who made this award possible."