Thursday, December 15, 2022
The 2023 winter gathering at the College of Dentistry was a great success. In addition to celebrating together with colleagues, the college enjoyed sharing good food and looking at the various ornaments submitted for the college's 2023 Winter Ornament Contest Winners. 
The Winter Ornament Contest had 36 submissions, and they were all wonderful! Staff and faculty voted during the Holiday Gathering last Thursday, and students were able to vote last Friday and yesterday morning. We have two awards: The People's Choice Award (based on everyone's votes), and the Dean's Choice award. The prizes for the awards are Percy Penguin and Cocoa the Cat, shown below with Dean Stanford.
Percy the Penguin is given for the People's Choice Award, which was won by 'Clickety Clakin' Clause'! This ornament was created by the 'Senior Lab Superheroes' (Nick Deister, Tiffany Wellington, Kelly Lindahl, and Ivan Medin), who are shown below. Congratulations to the People's Choice Award winners!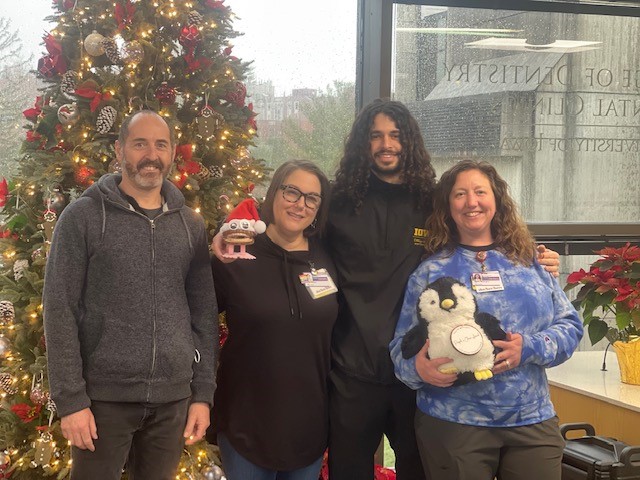 Cocoa the Cat, representing the Dean's Choice Award, goes to 'Catfishing' by the Clinic Admin Team (Bre Fettkether, Mike Kanellis, Jacki Knorr, Brian Howe, Becky Todd, Joan Welsh-Grabin, and Michelle Herman). Congratulations!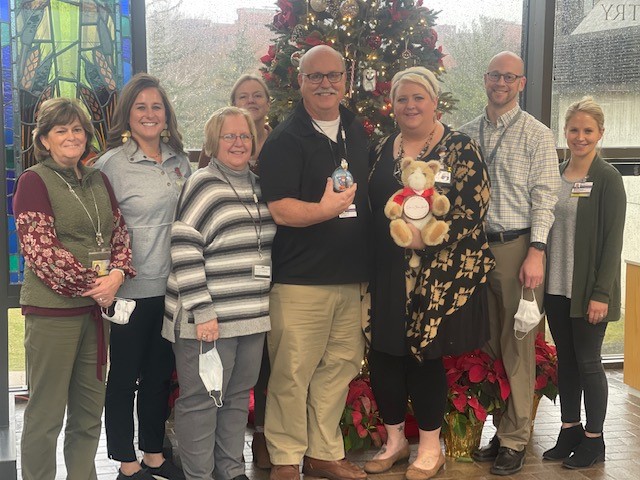 Percy and Cocoa will hang out in the winner's office spaces for the year and will be passed on to the winners of next year's contest. 
Additional photos from the winter gathering are below in the gallery.