Become the Architect of Something Beautiful!
Advanced Training Program
The department offers a three-year (36 months) post-doctoral program in prosthodontics leading to a certificate in prosthodontics and a master of science degree. The program is fully accredited by the American Dental Association Commission on Dental Accreditation. Upon completion of all requirements, each resident is educationally qualified for examination and certification by the American Board of Prosthodontics.
The Master of Science degree, obtained through the Graduate College of the University of Iowa, requires the completion of an original research project, preparation and defense of a thesis and a comprehensive examination covering the specialty of prosthodontics. Courses of study leading to a Ph.D. are also available through basic science departments or through interdisciplinary affiliations.
Individuals pursuing a Ph.D. and an advanced training certificate should plan on a minimum of six to seven years to complete both programs.
Program Strengths
The graduate and advanced training programs are designed to prepare dentists for the practice of prosthodontics, with a strong background in dental research. The programs may be modified to fulfill individual interests, goals and desires while still meeting requirements for the certificate and M.S. or Ph.D. degrees. We believe that the major strength of our prosthodontic programs is the variety and depth of patient treatment experiences available to our students. 
Clinical Facilities
Our residents are provided with progressive clinical, laboratory, and didactic training in fixed, removable, maxillofacial, and implant prosthodontics. Prosthodontic residents spend portions of their clinical time at The University of Iowa College of Dentistry and The University of Iowa Hospitals and Clinics. Through these two clinical facilities, the student will treat a variety of complex prosthodontic patients, in addition to gaining experience treating medically compromised patients, geriatric patients, and patients requiring maxillofacial rehabilitation. Residents will also gain experience collaborating with other medical and dental clinical specialties. The University Of Iowa College Of Dentistry has a state of the art facility with newly renovated clinics devoted to prosthodontics. Each resident is assigned his/her own clinical operatory, study area, and laboratory bench.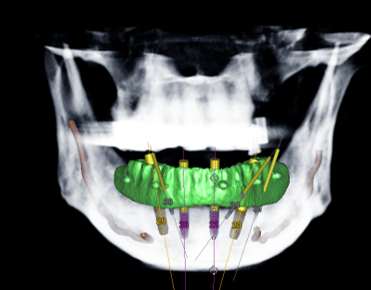 Implant Surgery and Digital Dentistry
The department has its own implant surgical suite for residents to perform implant surgeries within our clinic, using state-of-the-art digital technology for fully guided implant surgeries. We provide clinical training for a variety of implant systems including Nobel Biocare, Astra, Straumann, and other systems. The clinic facility utilizes electronic patient records, digital radiographic imaging and volumetric imaging (CBCT). The digital laboratory facilities include the latest 3shape, Simplant, Straumann CARES and Nobel Clinician systems with 3-D printing capabilities. Additional program strengths include board certified faculty, research facilities, and technical support readily available within the department and through the College of Dentistry and The University of Iowa.
The Selection Process
Application to the Advanced Prosthodontic Program is managed by the ADEA PASS centralized application service, and the final selections are managed by the National Matching Service Inc program. All inquiries about your application should be directed to them. The ADEA PASS deadline is August 15. Please check with the ADEA PASS website for the latest application deadline since the date may change. The Advanced Prosthodontic Program is a participant in the Postdoctoral Dental Matching Program and abides by its rules. The application deadline for any additional materials required by the program is September 1 for the entering class that will begin studies July 1 of the following year. In light of the ADEA PASS deadlines, the July 1 deadline is necessary so that all applicants can be considered equally. Interested potential applicants are invited to contact Dr. Tarek El. Kerdani, DDS, MSD, FACP, Department of Prosthodontics.
The minimum requirements for admission into the program correspond to the minimum requirements for admission to the Graduate College of The University of Iowa. In addition, the student must hold a D.D.S. or D.M.D. degree, or its foreign equivalent. Applicants should possess a cumulative grade point average (GPA) of at least 3.0 on a 4.0 scale.
In addition, for students whose first language is not English, a minimum score of 600 paper-based, 250 computer-based, or 100 internet-based Test of English as a Foreign Language (TOEFL) is required by the Department for admission. The exam score must be less than two (2) years old. Please follow the PASS instructions for submission of scores to PASS. Candidates may also be requested to take the Test of Spoken English. These requirements are not absolute but will receive considerable weighing when applications are considered. A personal interview for the most qualified applicants is required and is given by invitation only. Final decision on the acceptance of any applicant meeting the requirements for admission will rest with the applications committee. After provisional acceptance into the prosthodontics program applications for admission to the graduate program should be made online. 
International applicants are required to submit financial certificate documentation, which is required before visa documents can be prepared.
Program Length: 36 months
Number Admitted: Up to 3*
Degree Awarded: Certification and Master of Science or PhD
USA/Canada DDS: $14,223 per year*
International DDS: $27,643 per year*
Other Program Costs: Approximately $2,000 in start-up costs
Stipend: All residents receive $12,000 per year*
For International Applicants
TOEFL: Required (100 pts. Internet-based)
NBDE: Strongly Encouraged
*Subject to change without notice