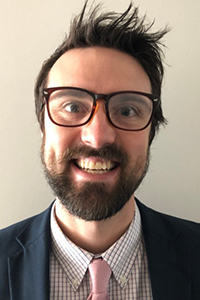 Jason Semprini, a T90 trainee in Iowa Institute of Oral Health Research and a Ph.D. student in the College of Public Health, was awarded a F31 grant. An F31 award is a training grant for mentored dissertation research.
This $87,000 award will support Semprini's study on the relationship between access to dental care via Medicaid and early-stage oral cancer detection.
Although oral cancer kills more than 10,000 adults each year, early detection is known to improve survival and quality of life. Unfortunately, less than one-third of oral cancer cases are detected at early stages. This gap in oral health care may be at least partially explained by the lack of access to preventive dental services for large segments of the population.
Dentists routinely screen for oral cancer, and ideally, see patients at least twice a year. For patients seen this often, it is likely that oral cancer would be detected early, but many Americans lack affordable dental coverage, and as a result, many delay or forgo vital oral health care.
Semprini's study examines this relationship to guide population-based oral health policy. His study evaluates the impact of access of Medicaid dental services on early-stage oral cancer by analyzing population-based cancer registry data. This data includes Medicaid enrollment data and oral cancer information.
Using statistical methods, Semprini will infer from the data the effect of access to Medicaid dental services on early-stage diagnoses of oral cancer taking into account differences between state funding and access to a dentist.
This project is the fourth NIH training grant that R90/T90 students have secured since training grant was refunded in 2018. Past trainees who received NIH training grants include Aline Petrin (K01), Jennifer Sukalski (F31), and Mathew Remy (F31).